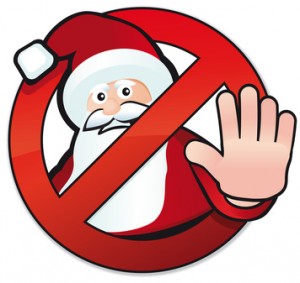 Several L-S High parents have forwarded me the text of this email from their principal, Scott Carpenter, letting students and parents know the rules for celebrating "the winter solstice and several cultural and religious holidays."
The most important rule: "we want to make sure no one feels excluded…[therefore] decorations tied to a religious holiday (of any religion) do not have a place in the public areas in and around our school."
Got it?  NO RELIGION! RELIGION IS BAD!  KEEP YOUR FAITH TO YOURSELF!
Among the banned items: "Santa and Christmas trees, menorahs, stars of David and anything related to Tim Tebow." [OK, I made up that last one.]
Here: read the email for yourself. Then tell me when Lincoln-Sudbury and the rest of uber-liberal Massachusetts went insane.
'Tis the season to celebrate the winter solstice and several cultural and religious holidays. The tradition of decorating the "senior spot" is a long-held one, and is acceptable as long as certain guidelines are followed. In the spirit of L-S culture, where we want to make sure no one feels excluded because of his/her identification or non-identification with a religious group, we have decided in previous years as a whole school (staff/ student committee on decorations) that decorations tied to a religious holiday (of any religion) do not have a place in the public areas in or around our school.

Please remember if you decorate, that winter scenes, snowflakes, lights are OK; anything connected to Hanukkah, Christmas, or other religious holidays is not OK. Please avoid Santa and Christmas trees, menorahs, stars of David, or other symbols of individual religious holidays. As in the past, decorations may be put up any time after December 15th. Also, prior to decorating, please run your plan by your housemaster.

Thank you for your understanding. If you have questions, please feel free to contact your housemaster. We look forward to seeing the enhanced "senior spot" at the end of next week!
–The Housemasters and the School Decorations and School Climate Committees
Is the school doing what is necessary, or are they showing paranoid stupidity in the service of the p.c. "L-S culture?"  Email your answer to michaelgraham@969bostontalks.com or post your comments on Facebook using the link below.  Thanks!